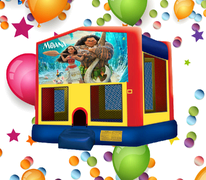 Moana (13x13)
$134.95
Dimensions: 13' X 13'
Set Up Area:

Setup area: 15' X 15'



Outlets: 1
NEW ARRIVAL
AVAILABLE NOW!!
Perfect for your little keiki and small enough to fit in tight spaces.
A sweeping, CG-animated adventure about a spirited teenager who sails out on a daring mission to prove herself a master wayfinder and fulfill her ancestors' unfinished quest. During her journey, Moana meets the once-mighty demi-god Maui, and together, they traverse the open ocean on an action-packed
voyage, encountering enormous fiery creatures and impossible odds.